Key To Freedom 2020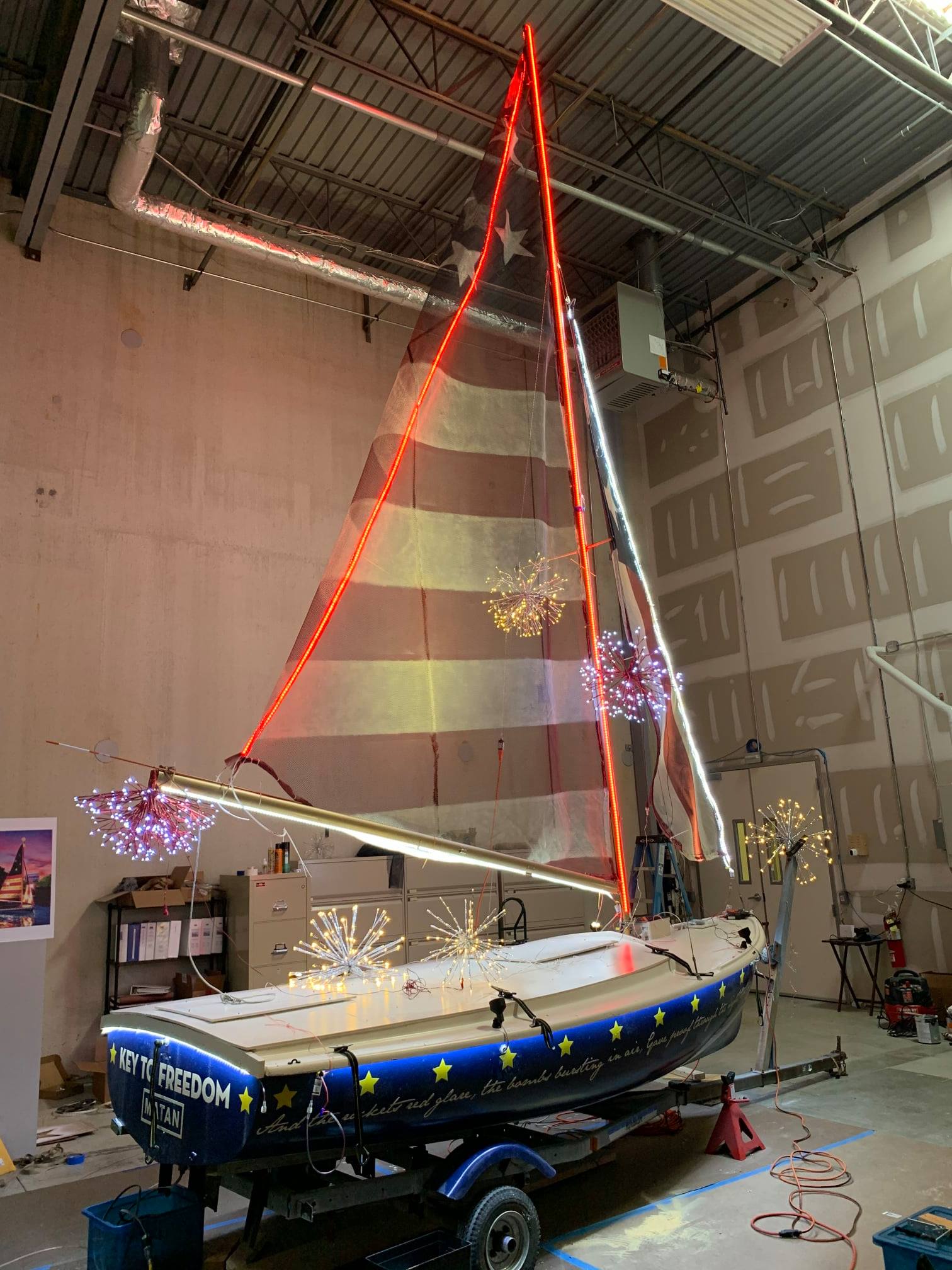 Key to Freedom 2020
Sponsored by Matan
Supporting: Frederick Health Hospice Veterans Program
For the last several years Matan's Philanthropic Committee took a pledge to "Be the Change" and has worked at increasing our community involvement to give back in Frederick County.
At our holiday lunch at the Wine Kitchen back in 2018, we admired all the amazing boats on the creek, and decided to take on the challenge of building our own boat. In May of 2019 we began the process of acquiring, designing, and building a boat that could be displayed along the creek.
We acquired a fourteen foot, 1973 O'Day Javelin sailboat from the Chesapeake Bay Maritime Museum.
We polled our employees to get theme ideas. Patriotic was the popular vote. The Key to Freedom's patriotic theme aligns with Frederick's rich history of Francis Scott Key and The Star-Spangled Banner. High Rock Studios helped us design the overall look and the six members of our Philanthropic Committee worked countless hours to bring that design to life.
This is the second year Key to Freedom has participated in STTWS. This year we chose "Frederick Health Hospice Veterans Program" as our local non-profit, ensuring that our veterans and their families continue to receive the support they need within our community.
Sailing Through The Winter Solstice begins sometime in mid-November every year when the boats that have been constructed and planned are launched into Carroll Creek. The 12+ week event benefits the city of Frederick in more ways than one. Each boat supports a local charity. Sailing Through Winter Solstice endures through the weekend of Fire and Ice – the first weekend in February. Shortly after that weekend, the boats are lifted from the creek and put into storage – only to be refurbished and polished up for the next year. For 2020 there were 24 boats raising funds for charitable organizations, and one smaller boat, USS Hamster, constructed to serve as a maintenance and rescue boat for repairs, as needed during winds, snow and ice conditions.