Hope Floats
Sailing Through The Winter Solstice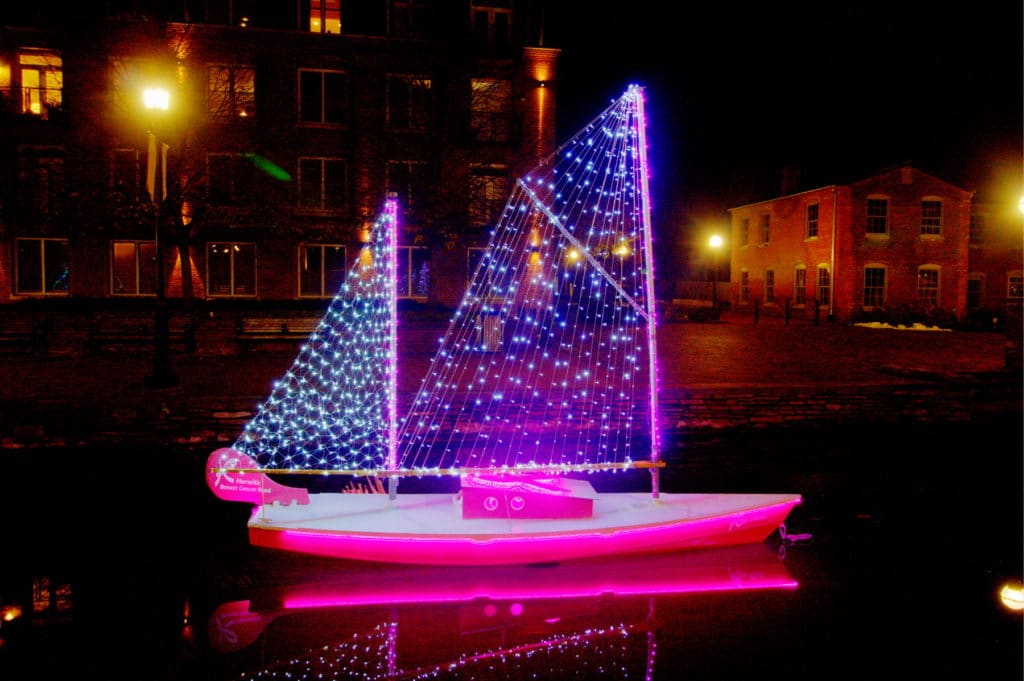 As we celebrate STTWS 2018, we decided to share the reasons our shipbuilders and designers had in mind for each boat, including construction and materials used. Enjoy.   
The idea. The Hope Floats boat is sponsored by Colonial Jewelers, and was inspired by the efforts of owners Jeff and Patty Hurwitz to raise money to support local breast cancer patients.  To that end, the Hurwitz Breast Cancer Fund was founded in the year 2000.  To date, the initiative is approaching the $2 million dollar mark in total funds raised.  Every dollar of that money has been used to purchase state of the art technology for the early detection and treatment of breast cancer patients at Frederick Memorial Hospital, and to support the Center for Breast Care and the James M. Stockman Cancer Center. 
Carroll Creek Fleet Admiral Pete Kremers steers the FMH Radiology Department when not at sea.  He has been instrumental in research and implementation of the dollars raised by the Fund.  So it was a natural fit that Jeff and Patty would want to support Dr. Kremers' efforts, both to raise money and awareness for the fund, but also, as long-time downtown business owners, to help beautify the Creek in the cold of winter.
Construction. Hope Floats was the creation of daughter Allison Hurwitz and Matt Distefano.  They chose bright pink with delicate lights to symbolize the journey of breast cancer patients.  The name refers to the Hope that the Fund is providing for women through advanced diagnostics and treatments.  Colonial Jewelers is thrilled to have the opportunity to participate in the Winter Solstice project.
Our charity. Hurwitz Breast Cancer Fund.