Kraken A Truth 2020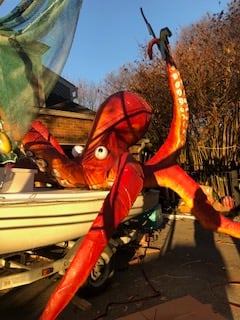 Kraken A Truth 2020
Sponsored by Flying Dog Brewery
Supporting: Color on the Creek
Downtown Frederick is the heart of our backyard and what better way to showcase our brand and love of Frederick?
We decided to join Sailing Through The Winter Solstice and this will mark year four of our journey. This year we wanted to do something unimaginable.
Enter our dream of the Kraken, a mythical sea creature thought to be menacing and terrifying by many sailors. However, tamed by the Truth!
This beautiful creature was imagined and created by Josh Diffenbaugh, Kyle Thomas, Branden McGee and Pete Kremers. Together we accomplished what no one thought was possible!
Kraken A Truth! If you can handle the Truth that is!
Sailing Through The Winter Solstice begins sometime in mid-November every year when the boats that have been constructed and planned are launched into Carroll Creek. The 12+ week event benefits the city of Frederick in more ways than one. Each boat supports a local charity. Sailing Through Winter Solstice endures through the weekend of Fire and Ice – the first weekend in February. Shortly after that weekend, the boats are lifted from the creek and put into storage – only to be refurbished and polished up for the next year. For 2020 there were 24 boats raising funds for charitable organizations, and one smaller boat, USS Hamster, constructed to serve as a maintenance and rescue boat for repairs, as needed during winds, snow and ice conditions.