Launching Stargazer!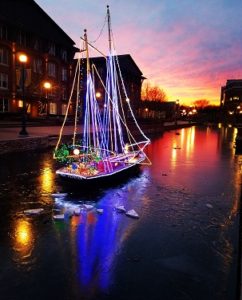 After a teaser appearance in the Kris Kringle procession, the inaugural launch of "Stargazer" was held on Wednesday December 14th for our "Sailing Through the Winter Solstice" celebration. The event was greeted with suitable fanfare – and we even earned a beautiful picture on the front page of the Frederick News Post the following morning!
And then came the storm. Unfortunately, our successful launch was followed a day later by an image we really didn't want to see! It showed, somewhat disrespectfully I might add, the BOTTOM of "Stargazer" after she was rolled over in a vicious wind storm. With recorded gusts of 40 mph, coming straight from the underworld I might add, the wind was simply too much for her. However, unlike the Vasa, (a famous 17th century Swedish warship that languished on the bottom for over 300 years after foundering on her maiden voyage), Stargazer was rescued in less than 12 hours.
Real friends come through! Five hardy souls, in the water and on land, worked through a bone chilling 3 degree wind chill to right her, pump her out and then secure her safely. Her salvage was completed several days later when, after a few prayers, she was "re-electrified." It was a little tense but, similar to the ill-fated Apollo 13, she fired-up without so much as a hiccup. "Stargazer/USS Hamster" has been continuously illuminated ever since.
Special thanks. We thank all those who helped and cheered us on launch day including the always dependable members of the Carroll Creek Rotary. We also offer very special thanks to David Collins, Kyle Thomas, Bill Stover and Larry Hill who rescued her the following evening so that she might  gaze upon the stars once more.
What happened? Why did she go down you might snarkily ponder? Well. . .she can't swing free with the wind as she is anchored in the bow. Additionally, she is also tethered to shore power in the stern. The naval architect who designed and assisted in building her (a reputed genius, I might add) placed lateral stabilizers or "birds" over the gunwales to deal with heeling. However, this same "genius" failed to have weighted them properly for the "act-of-God" winds that were to visit her.
The outcome? Despite the upcoming holiday season and his rather pathetic pleadings, he was summarily fired. However, after a little thought, was just as quickly rehired as he was now deemed a leading "expert " in the field of Keel-less Imitation Old World Creek- sailing Vessels. The definition of an expert is after all "someone who has made every conceivable mistake possible in a narrow field of interest." We feel very confident he won't make that mistake again.
Next up? So Stargazer awaits your visit and hopefully she will be joined by others in the years to come. We have at least five sponsors interested for next year if the city agrees to expand the fleet. If you liked Stargazer, next year will be fantastic. If you want to see the event grow, please call the mayor and your favorite alderman to voice your support.
Current plans are for Stargazer to remain in place at least through Saturday Jan 14th.