Sailing Through The Winter Solstice Is Here!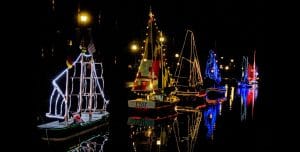 Take a look! Wander down to the creek and view the boats as they shine throughout the New Year. The boats will be in the creek through Frederick's Fire & Ice celebration – the first weekend in February.
After you've viewed the boats, please vote for your favorites. It's a dollar per vote and all proceeds go to local charities.
Attention Grabbers! The boats are in the creek and as you can imagine, they're attracting a lot of attention. We're even on the Fox 5 Weather cam! Seriously, the captain and crew have outdone themselves this year. Be sure to stroll the creek often – day and night and enjoy these beauties.
Launching. Please take a look at the launch process as filmed by the Frederick News Post Launch. And don't miss this video of the launch as filmed by Kristin Kremers.  This year's solstice event is an awesome display of our communities' collective creativity and talent. There are 20 boats this year in the creek!
Vote For Your Boat. Here's the list of boats, the sponsor and the charities.
USS Fredericktowne from High Caliber Home Inspections supporting Platoon 22
Carroll Creek Clipper from The Rotary Club of Carroll Creek supporting Second Chances Garage
Snallygaster & Twins from Landscape Services, Inc. supporting Sophie and Madigan's Playground
Centennial from The Rotary Club of Frederick supporting First Century Trust Campaign
Spirit of Apprenticeship from Dynamic Auto supporting United Way of Frederick
Reel Fun from Delong and Stang supporting Phoenix Recovery Academy
USS Hood from Hood College supporting Hood College
Black Pearl from East Coast Cable Solutions, Inc. supporting Federated Charities of Frederick
Colleen's Crew from New Era Custom Design and Cabinet supporting Cystic Fibrosis Foundation
Mystere from Tourism Council of Frederick County supporting Sophie and Madigan's Playground
Hope Floats II from Colonial Jewelers supporting Hurwitz Breast Cancer Fund
Kraken from Flying Dog Breweries supporting Color On The Creek
Ribbon Cutter from Morgan Keller Construction supporting Habitat for Humanity of Frederick County
Key to Freedom from Matan supporting Frederick Health Hospice Hospital Veterans Program
Beacon from Truist, formally BB&T and SunTrust supporting The Frederick Rescue Mission and Faith House
Artic Racer from Ausherman Family Foundation supporting Frederick Arts Council
Richmere Richmeres Too from Stulz supporting SHIP of Frederick County
Starry Night from Frederick Primary Care Associates supporting Heartly House and Frederick Health Hospital Oncology Services
Stargazer II from The Wine Kitchen supporting Color On The Creek
Spirit of Maryland from Property Management People, Inc. supporting Habitat for Humanity of Frederick County
Heavens to Betsy (at Brewers Alley Rooftop) from The Berkheimer Group at Morgan Stanley supporting Woman to Woman Mentoring
The Holly Jolly Roger (at The Wine Kitchen) from Kevin and Jeannie Hessler supporting I Believe in Me, Inc.
USS Elf 2020 Keep Back 6 Nauts (at the Amphitheater Rooftop) from Arachnid Works / JAKKSS Millworks supporting SOAR Frederick, Inc.
C Burr Artz Library (Creekside in front of Library) from The C. Burr Artz Library supporting The Community Action Agency and The Religious Coalition.