Snallygaster and Twins 2020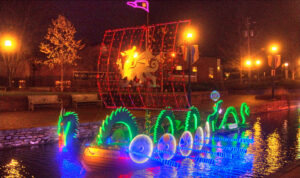 Snallygaster and Twins 2020
Sponsored by Landscape Services Inc.
Supporting: Sophie and Madigan's Playground
The story behind Snallygaster and the Twins. The first year we constructed only the Snallygaster, Ed wanted to name Sophie and Madigan's Playground but found out that it wasn't "ready" to receive funds. So that first year we chose Glade Valley Community Services because I am heavily involved with them. They were willing to be named as our charity.
After that first year, we then were able to designate Sophie and Madigan's Playground as the charity receiving funds from the boat. Since Sophie and Madigan's Playground was then going to be our charity, we decided to add 2 "children" to the Snallygaster in order to honor Sophie and Madigan. We wanted them to be whimsical, fun and playful so we incorporated the balls (gender neutral toy) and included the name choice. At the time, we went through discussions of which genders to make the kids and decided that 2 girls hit too close to home – then we decided to do one boy and girl.
So that is how Snallygaster and the Twins, Sallygaster and Sullygaster came to be. We also made them glittery and sparkly, using youthful, fun colors and lots of glitter and sequins as Sophie and Madigan would have chosen!
Sailing Through The Winter Solstice begins sometime in mid-November every year when the boats that have been constructed and planned are launched into Carroll Creek. The 12+ week event benefits the city of Frederick in more ways than one. Each boat supports a local charity. Sailing Through Winter Solstice endures through the weekend of Fire and Ice – the first weekend in February. Shortly after that weekend, the boats are lifted from the creek and put into storage – only to be refurbished and polished up for the next year. For 2020 there were 24 boats raising funds for charitable organizations, and one smaller boat, USS Hamster, constructed to serve as a maintenance and rescue boat for repairs, as needed during winds, snow and ice conditions.