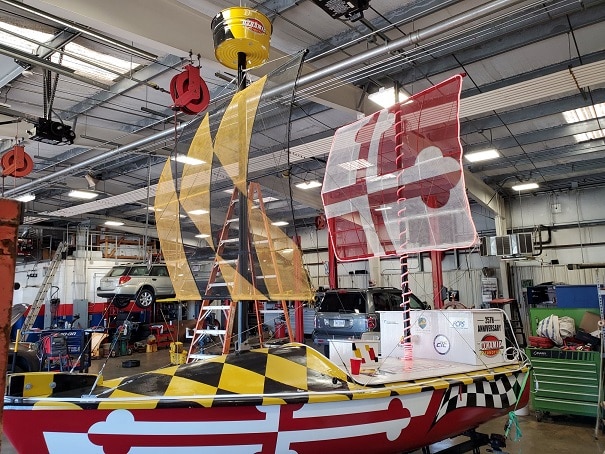 Sponsored by Dynamic Automotive
Supporting United Way of Frederick County's Path to Transportation
Chris Kline Sr, who helped us buy both our Urbana and New Market location, suggested a 25th anniversary edition this year. We wanted to raise awareness to what Maryland was doing. Which helped us pick the Maryland Flag as a design, we upped our game from last year with painted sails. We used black light to illuminate the sails along with LED rope lights. We chose the United Way of Frederick County's, Path Road to Transportation to support. It's a great fit for us to support a transportation program that helps lift people up with reliable transportation.
Sailing Through The Winter Solstice begins sometime in mid-November every year when the boats that have been constructed and planned are launched into Carroll Creek. The 12+ week event benefits the city of Frederick in more ways than one. Each boat supports a local charity. Sailing Through Winter Solstice endures through the weekend of Fire and Ice – the first weekend in February. Shortly after that weekend, the boats are lifted from the creek and put into storage – only to be refurbished and polished up for the next year. For 2020 there were 24 boats raising funds for charitable organizations, and one smaller boat, USS Hamster, constructed to serve as a maintenance and rescue boat for repairs, as needed during winds, snow and ice conditions.