Starry Night
Sailing Through The Winter Solstice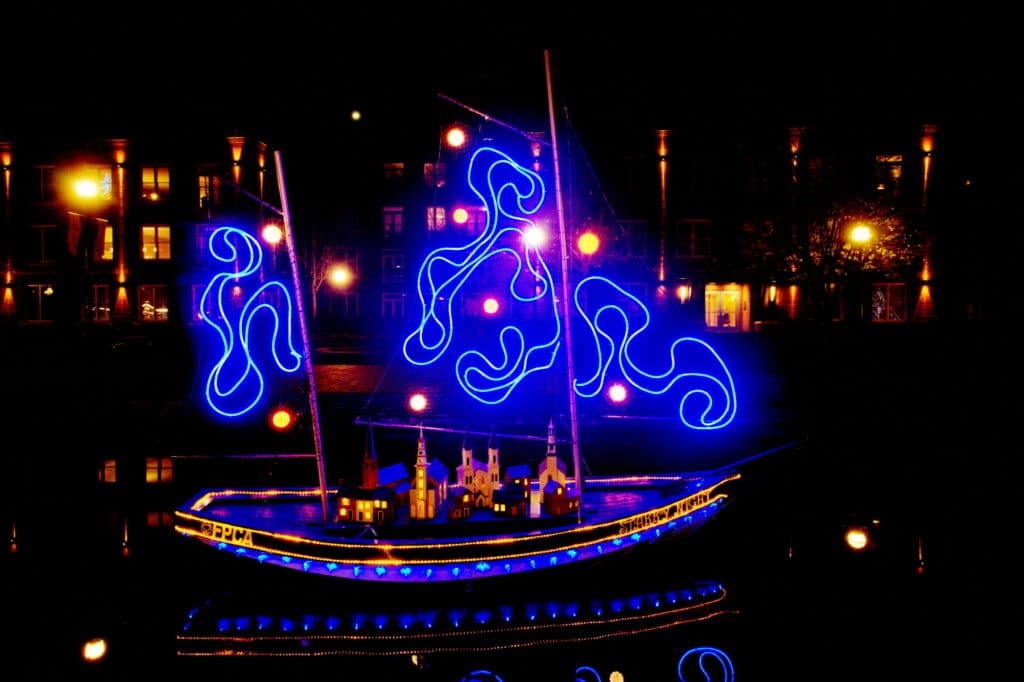 As we celebrate STTWS 2018, we decided to share the reasons our shipbuilders and designers had in mind for each boat, including construction and materials used. Enjoy.   
"I don't know anything with certainty, but seeing the stars makes me dream."  Vincent van Gogh
The Idea. I've always loved impressionist  paintings, especially the works of Monet and Van Gogh. In fact, Monet's garden at Giverny was the inspiration for our own Color on the Creek water garden. Earlier in2018, I happened upon a boat named "Vincent" on the Chesapeake Bay Maritime Museum auction website. Ironically, her lines and several white swirls painted on her bow reminded me of a Van Gogh painting titled Fishing Boats on the Beach at Saints-Marias. But it was thinking about another Van Gogh masterpiece—Starry Night—that really got my creative juices flowing. So much so that I purchased the boat at a premium before the auction.
Construction. I struggled with design elements for the new boat and a starry night sail plan until my friend and accomplished artist Max Wingerd offered "a little help." I was amazed how quickly his vision and artistic skills moved the project forward. With an ad hoc team including Rob Ringle, Rich Favarulo, Jerry Winnan, Robert Robey and others, we built a new deck and made many other necessary improvements to prepare Vincent for Frederick's challenging new art genre aptly called arctic creek sailing. Josh Diffenbaugh, a talented painter, worked his magic on color designs. Then Max and I went to work on turning his design for the sail graphics into a reality.
Max Wingerd. The painting Starry Night is a true rockstar in the world of fine art and has long been a favorite of mine. It represents Van Gogh's discovery of the vibrant energy in darkness. That he painted it from his room in an asylum in San Remy France, which had bars on it to prevent his escape, makes it all the more powerful and amazing to me.
Yet for all the movement of swirling and dancing stars,the painting has a symbol of stability and order right in the middle of it: a picturesque town, asleep, with a single serene church steeple rising in stark contrast to the dark hills beyond. Next time you look at a photo of the painting, you'll see it. Minus a few spires, it could be Frederick!
The idea of creating a Starry Night boat with Pete for FPCA (Frederick Primary Care Associates) was as daunting as it was exciting. Once we decided to go full speed ahead with the concept, the challenge was capturing the celestial energy of the painting with colored lights on the sails and recreating the sleepy little town below that sky. The sails were actually a fun thing to do in the dark. The town, with my limited power tool collection, was a bit more challenging. But it all came together beautifully.
Of course, there were lots of hours devoted by lots of people in constructing, painting, water-proofing and readying the boat. My thanks to all!  Now that Starry Night is float in Carroll Creek and all lit up, it just might make Vincent proud, too.
Our charities. Heartly House, offering safety and security to victims of domestic and sexual violence. And FMH Cancer Patient Assistance Fund, helping patients and their families with the costs of medical care.
Peter Kremers